From Military Layoff to Landing a Job in Cybersecurity: Ed's Success Story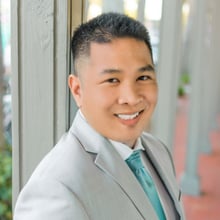 Let's face it – getting fired isn't exactly a walk in the park. When I was let go from my job as a nuclear electronics technician in the Navy, I already knew it was coming. My performance had been under the microscope for some time, and I just wasn't cutting it: I wasn't passing tests, my skills weren't up to par, and I was struggling to retain information.   
But I didn't let this setback define me. Instead, I took it as an opportunity to learn and grow. And if you've ever been in a similar situation, then you know just how tough it can be to make a career transition. But trust me, it's not the end of the world. In fact, it might just be the push you need to take your career to the next level. In this post, I'll be sharing with you the steps I took to prepare for this inevitable scenario from day one.
Make Friends 
"A journey is best measured in friends, not miles" – Tim Cahill  
Sometimes, it's not what you know, but who you know. And that's exactly what I discovered when I took up watersports. Not only did I find a new hobby, but I also found myself surrounded by an amazing group of people who were successful in their own right. As we hung out and shared stories, I started to learn more and more about the tech industry – a field that had always intrigued me but seemed out of reach. But through the power of networking, I was able to make the transition from military life to a career in cybersecurity. 
And it all started with one friend – an Offensive Security Engineer who gave me the advice I needed to make the switch. Of course, not everyone needs to take up watersports to expand their network (although I highly recommend it!). The key is to find a way to continuously make new connections and build relationships. Because as I've learned firsthand, you never know where those connections might take you.
Research Your Next Industry 
Meeting new people can be an exciting way to broaden your horizons and learn about different industries and job descriptions you may have never even heard of before. If something sparks your curiosity, don't be afraid to ask questions and learn more. If the idea continues to linger in your mind, it may be worth doing some research on your own time. You might discover industry meetups and groups where you can connect with people who are actively working in your desired job position. These opportunities can be invaluable for learning more about a potential career path and getting insider insights from those who are already in the field. You'll be surprised by how much they're willing to share, so don't be afraid to reach out and make those connections!
Develop and Apply Skills Learned  
After expanding my network and building relationships in the tech industry, I knew I needed to develop and apply new skills to be competitive in the cybersecurity field. I read books, watched videos, and even went to my first DerbyCon! It wasn't easy and I made a lot of mistakes along the way – but it prepared me for my next stage in life. As the saying goes: if you start ready then you don't have to get ready!
In conclusion, making a career transition can be a daunting and challenging process, but it's important to remember that setbacks can be opportunities for growth and learning. By taking proactive steps to expand your network, research potential industries, develop new skills, and build your personal brand, you can position yourself for success and land your dream job – just like I did in the cybersecurity field. So, don't be afraid to step outside of your comfort zone, take risks, and make those connections that could change your life. You never know where your journey might take you!
-Ed Sabijon